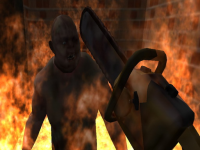 Anyone who works in an office is familiar with the horrors that can be found in Office Horror Story. You are the only person left in the office and are working late. Unfortunately for you, there is a serial killer on the loose, and you must try to avoid being killed - who would have thought that office work could be so dangerous? Navigate your way through the office to avoid the Chainsaw!
How to play
Because all of the workers have left, you are the only one left... Find a way out while avoiding the strange shape you can sense lurking! Will you make it through this madness before it's too late? Find yourself trapped inside an office building and make your way out of this unsettling environment.
WASD or arrow keys are used to move around; the mouse is used to look around; the left mouse button is used to fire; the right mouse button is used to aim, and the mouse wheel is used to switch weapons.