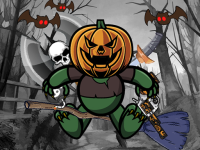 Pumpkin Monster is a Halloween-themed online action game that you should not miss! Your objective will be to destroy a rather frightening-looking pumpkin. You will only be able to punch it at first. However, for each punch, you are rewarded with coins, which can be used to purchase new skins or better weapons to assist you in wrecking the pumpkin and thus earning a higher level.
How to play
To attach, press the left mouse button.
Most of the time, you click the creature. However, tap close to it if you carry a gun or a throwing instrument. It will take some time to unlock every weapon because there are so many of them.
Features
Amazing 2D Halloween theme graphics

Multiple weapons and abilities

Mask skins to buy
Did you have fun playing it? Then try some of the hottest Halloween games, like Adam and Eve: Zombies. Try it right now with a click.