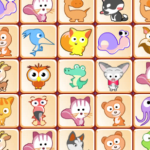 Dream Pet Link is a Mahjong tile-matching game. Connect the pet pairings to clear the tiles from the board! You'll need a keen eye to identify the patterns among the lions, snakes, cats, bats, and other adorable animals. Find two tiles with identical charming animal pictures and connect them. The line that connects them may only turn two corners.
How to play
You notice a board covered in tiles depicting charming animals. The goal is to get rid of all of the tiles on the table. You can get rid of them by matching two tiles that have the same animal on them. However, you can only match up pairs that can be joined together with no more than two right-angled twists.
If you enjoy Dream Pet Link, you probably enjoy connecting and mahjong games as well. There are a variety of difficult puzzle games in such categories. Mahjong Connect Halloween and Mahjong Dimensions are two titles that are quite similar.