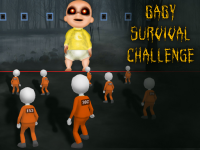 The Baby Survival Challenge is an excellent survival game. Your mission is to defeat the evil baby. Hundreds of players are arranged in a circle to begin the game. Hundreds of players will start the game in round one, but some will be eliminated as the game progresses. The accumulated reward in a saving piggy bank will be increased after one round. You must fight others in order to win challenges and collect all of the rewards.
How to play
On your computer, you can play this game by using your mouse or the arrow keys on your keyboard. You can play this game on the touch screen of your mobile phone or tablet by tapping or swiping. The more you play, the harder it becomes. Can you keep the evil baby at bay? Try everything you can to get out of there!
Related Games
Five Nights at Freddy's, Friday at Treasure Island, Funkin' Nights At Freddy's, Sharkosaurus Rampage, Gun Guys.